At Raw Organics, we are all about bringing you the newest information on cannabis regulations in Sweden. Our team of experts works tirelessly to make sure everything we publish is totally accurate and backed up by the latest scientific research. We are always updating our content to keep it fresh and relevant for our awesome readers. And let's be honest, CBD is having a major moment right now. It seems like new CBD products are popping up left and right, and people are eager to try them out. It's not hard to see why – CBD has been the subject of a ton of research lately, and the results are pretty exciting. People are starting to see the potential health benefits of CBD and want to learn more about how to incorporate it into their daily lives. But with all this interest comes questions about the legal status of CBD products. That is where Raw Organics come in. We have made a series of articles that cover everything you need to know about CBD regulations in different countries throughout Europe. We want to make sure you have all the info you need to make smart decisions. Who knows, you might even learn something new along the way!
CBD products without THC is legal in Sweden
CBD legal in Sweden as long as it contains zero percent THC, therefore Raw Organics only sells products that are without THC in Sweden. The THC-free oils are named the PURE-series.
In 2019, the Swedish supreme court ruled that CBD oil and other products extracted from industrial hemp are not legal in Sweden if they contain any trace of THC. This means that if a CBD oil product contains any THC content, it is treated as a narcotic drug. While this ruling may bring some form of regulatory clarity, it also means that the threshold for cannabidiol products to be considered narcotics is very high. The zero percent limit for THC in Sweden for making cannabis products legal is much harsher than the 0.2% limit usually allowed for hemp products across Europe.
Is it legal to buy CBD online in Sweden?
Regarding the question of whether it is legal to buy CBD without THC in Sweden online, an answer is not publicly expressed from the government. However, based on a recent ruling by the European Court of Justice, it is possible to bring or purchase CBD oil from other EU countries to Sweden without being persecuted, as freedom of movement of goods is a fundamental principle of the EU. Many of Swedens top online retailers are therefore based in other EU countries. Additionally, the EU has removed CBD from the list of narcotics, which puts pressure on Sweden's harsh treatment of CBD. Nonetheless, it's important to keep in mind that the legal situation surrounding CBD in Sweden and the EU is still developing, and clear rules have yet to be set.
How to make sure the CBD oil is legal and THC free
Always buy your product from a reputable source, where you can see a COA (Certificiate of Analysis) on the products. This will guarantee that your products have been tested by a proffessional for the cannabinoid content. At Raw Organics we are working with Fundacion Canna in Madrid, a leading analysis institute in Europe, and therefore we are able to offer our customers the assurance that our products are of the highest quality and meet legal standards.
Be aware when shopping CBD-products online:
A lot of suppliers does not check their products strict enough. A survey from the US evaluated 80 samples purchased from health stores and online. Out of the 80 evaluated samples, 31% were incorrectly labeled, 54% were correctly labeled, and 15% were over-labeled. It could be assumed the European market suffers from the same challenges of inconsistent CBD concentrations with their label claims. Such inaccurate labelings can result in harsh penalties under Swedish laws for the consumer.
Penalties for buying CBD Oil with THC in Sweden
In Sweden, it is illegal to own cannabis plants or buy CBD oil with THC. Although there are no public records about the penalties for doing so, it is known that possession of cannabis in flower form results in day fines or imprisonment up to six months, depending on the amount. Possession of up to one gram of cannabis for personal use results in 30 day fines, while possession of over 50 grams can result in imprisonment. Since CBD oil with THC is treated as a narcotic drug in Sweden, it is likely that similar penalties apply to its possession. Therefore, it is best to avoid purchasing CBD oil with THC in Sweden.
Medicinal cannabis in Sweden
Medical weed has been legit since 2012 in Sweden, but getting some ganja is a real drag, even if you need it medical. Despite the struggles, more people in Sweden are using medical cannabis, with numbers doubling from 2016 to 2018.
Recently, in 2021, the Swedish Medical Products Agency gave the green light for a new 1:1 THC-CBD oil from Emerald Health Therapeutics for the Swedish medical cannabis market. Another prescription medicine in Sweden is the cannabis-based mouth spray being used to treat multiple sclerosis.
Alex Östling is one of the most well known Swedish patients who was prescribed medical cannabis. He's been battling acute arthritis for over two decades, which he developed when he was just a young boy'. After he was prescribed medical weed, his life did a 180, and he's become a major advocate in Sweden for others to give cannabis medicine a try. Unfortunately, even though it's legal in Sweden, the number of medical cannabis patients is still pretty low. With Sweden's population of 10 million peeps, there are fewer than 5,000 who use medical cannabis.
Doctors are hesitant to prescribe cannabis:
One of the biggest reasons for the low numbers is that many peeps in Sweden don't even know that medical weed is legal. Plus, doctors are hesitant to write prescriptions for it, preferring to treat patients with opioids or other meds instead. On top of that, the Swedish government keeps a tight lid on what can be said about medical weed in society, which makes it harder for patients to demand the medicine from their doctors and for doctors to learn the truth about weed.
The first medical cannabis conference in Sweden was held in may-2022:
To help tackle these issues, the first medical cannabis conference in Sweden was held in May 2022. The Stockholm Medical Cannabis Conference (SMCC 2022) was organized by a patient advocacy group called Aureum Life and attracted over 300 attendees, including patients, doctors, professionals, activists, creatives, and cannabis enthusiasts. The conference aimed to educate about the benefits of medical cannabis and encourage visitors to stay active politically so they can keep pushing for progress.
The cannabis industry in Sweden is still in its early stages, but with growing demand for medical weed and increased awareness and education, it is wellness industry that's expected to take off in a big way in the coming years.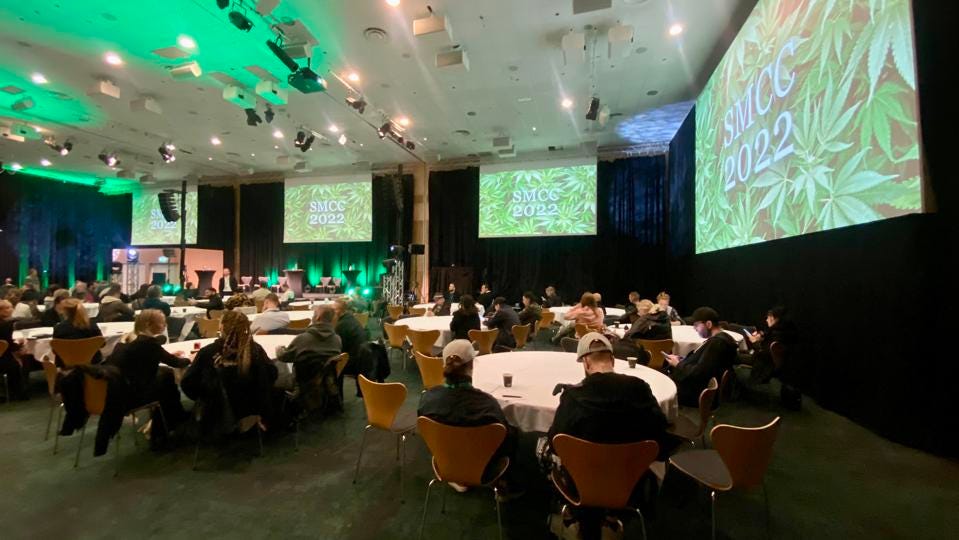 Public opinion on cannabis legalization in Sweden
Sweden is known for being progressive, but when it comes to legalizing weed, it's a mixed bag. What do people in Sweden think about weed? Are they down with legalizing it anytime soon? Let's dig into the public opinion on cannabis legalization in Sweden.
More than 80 % are against legalizing weed in Sweden
People in nearby countries like Germany are starting to relax their laws on cannabis, but Sweden is holding tight to its stance as the strictest country in Scandinavia. As Reuters reports, over 80% of Swedes are against legalizing weed in their country. It seems like most Swedes are content with the government's current position on recreational marijuana.
According to Camilla Watersson Gronvall, spokesperson for the Swedish Moderate Party, "the issue of legalization is almost non-existent." But, that does not mean no one in Sweden is smoking weed. Many younger Swedes have tried weed at least once, despite the country's strict approach to marijuana consumption. In fact, cannabis is the most popular recreational drug in Sweden, and usage has been on the rise. In 2018, The Local reported that the number of cannabis users in Sweden was at an all-time high.
Swedish men uses cannabis double as much as woman
According to a study by the Swedish Council for Information on Alcohol and Other Drugs (CAN), In average 1/20 men and 1/40 woman had used cannabis within the last 12 months. of people in Sweden said they had used cannabis within the 12-month period.
The most common demography for cannabis use is men aged 17 to 29, and the region with the highest percentage of users is Stockholm. According to Statista, 5.3% of men in the Swedish capital used cannabis in the last 12 months, with 3.3% of women reporting the same.
Where to buy CBD products in Sweden?
You can find CBD multiple places, both online and in physical stores. But as prior mentioned in this article, it is highly important to buy from a reputable source.
The PURE-series a THC-free collection of CBD Oils
At Raw Organics we have created the: "PURE-series" for the Swedish market, which consist of 100% THC-free oils in the concentrations from 5% to 35%, so whichever strength you're searching for, there is something for you!
In our process of creating the oil, we source ecologically grown hemp from different sources in Europe, and then extract the CBD through an Co2-extraction, which remove all unnecessary waxes and plant elements, so all that is left is the excellent stuff.

After this we dilute the oils to the desired strengths with organic hemp seed oil, which is rich in vitamins and amio acids.
Testing and verifying the oils
At the final stage with the help of the Madrid-based research center Fundación Canná, Raw Organics examines each batch. Which guarantees a top-notch, organic, and legal product.
So choose the Raw Organics PURE series if you want high-quality CBD that has no THC. You may feel well knowing that the CBD oil you receive is legal, organic, and tested. It will also be safe and effective. Why are you holding out? Look through the PURE series to locate the ideal CBD oil right now!
Ordering and delivery
Raw Organics caters Swedish customers in both Swedish and English. The delivery time for product are in between 2-5 days and delivery is always free.

See CBD-oils with delivery for Sweden in Swedish here.
See CBD-oils with delivery for Sweden in English here.
Important information
This article is written by an external person with no affiliation to Raw Organics. It therefore represents the personal opinion of the writer. Any views expressed in this article are not representative of Raw Organics' official stance. Raw Organics CBD products are not intended to diagnose, treat or cure diseases. If you seek this, we recommend seeking medical help.